March 20, 2016
Today was my last workout. Tomorrow I begin my attempt to cross the Molokai Channel between the islands of Molokai and Oahu. Compared to the Tsugaru swim, my shoulders are in excellent condition. I've slept well the last two days.
I got a message from a friend on Facebook who aborted her crossing in January. She suggested a departure point and recommended that we start the crossing on Wednesday. She consulted WindGuru, which indicated that Wednesday and Thursday are our best days. Uncertain of what to do, I called one of the kayakers to ask whether it would be better to wait until then. He told me that tomorrow I will have good conditions—and that we must seize them. He lives here, and what he says is based on his first-hand familiarity with Hawaiian weather, and how quickly and dramatically it can change.
I can only accept this.
Nora had already chimed in at noon. During our meal I thought about it, and finally I made the call, already knowing the answer.
At times like this, as in many others in life, there may always be something better. But one cannot live one's life waiting for it.
We must act.
Each swim requires a different strategy. For some unknown reason I had in my mind that the distance of the Molokai crossing was 46 kilometers. The day before yesterday I realized my mistake and now I know the correct distance is 42, a number that can be divided into 4 x 10,000 meters, plus a final pylon marking 2 kilometers.
My goal is to achieve split times of no more than 3 hours, 30 minutes for every 10,000 meters. If I succeed in keeping that pace, the journey will take about 15 hours. In our swim today we maintained a speed of 3 kilometers per hour and it felt good. We will see how close I can be to that target tomorrow.
Yesterday we had doubts about where we would depart. The good news, for us, is that we have decided on La'au Point, the closest point to Oahu. According to the forecasts we've received, a following winds will help me for the first 6 hours, then after midnight they are expected to decrease considerably.
That first stretch is important. I hope to have swum about 20 kilometers, and to have passed the 3 a.m. crisis. One positive thing about not yet having adjusted to Hawaiian time is that my body, still on a Mexican schedule, will reach its internal 3 a.m.—always an exceptionally difficult time—early in the swim.
The next leg will be midnight to dawn. I hope to cover as much distance as I can so that when dawn breaks I will have the coast of Oahu in sight. Depending on my pace the final leg could take between 2 and 6 hours. On the bright side, it will be day—and I will have my ultimate goal in sight.
I'm not a superstitious person, but I love coincidences.
Molokai is, for me, the turning point in my attempt of the Seven Seas: if we can make this crossing, we truly have the capacity to fulfill the larger quest. In 2009, when I was attempting to pull off a Triple Crown season, crossing Catalina occupied the position in my campaign.
On that occasion I was accompanied by Brad Howe, my best friend ever since we studied at Stanford together. Today Brad arrived from Malibu, California, to come with me again. He returns on Wednesday morning.
That he will be in the boat with me is a nice coincidence indeed.
With Brad Howe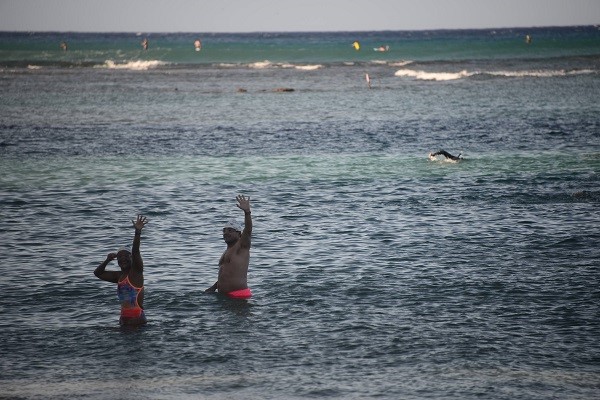 Starting my last workout